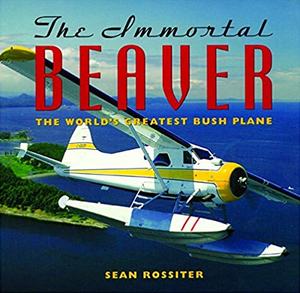 The Immortal Beaver (by Sean Rossiter)
Price includes shipping in Canada
Developed soon after the Second World War in the heady days when the Canadian aircraft industry sought to employ its engineering talent and production capacity to build domestically designed aircraft, the de Havilland Beaver has become one of the most successful and long-lived designs in aviation history. Phil Garratt, the man in charge of de Havilland Canada, conceived the Beaver as a 'half-ton flying pickup truck' capable of setting down on land, water and snow. The Beaver was adopted worldwide and, in certain jobs, it has yet to be surpassed.

Beavers are still the float plane of choice for island hopping along the Pacific Northwest coast and for flying into the Arctic. Beavers still fly missionaries and doctors into remote spots in Africa, and they have served as support aircraft in Antarctic expeditions. The Beaver became "the generals' Jeep" during the Korean War - and the generals' favourite transport to fishing spots in peacetime.

This colourful retelling of the Beaver saga also captures the unforgettable characters behind the airplane: Garratt; chief design engineer Jaki Jakimiuk; Fred Buller and Dick Hiscocks, who made the new bush plane great; the dean of bush pilots, Punch Dickins; and the Beaver's daring test pilots, Russ Bannock and George Neal.
---
Share this Product