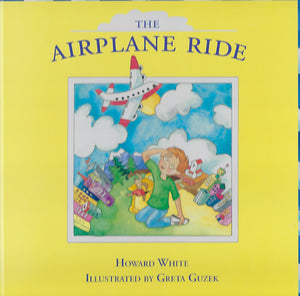 The Airplane Ride (by Howard White and Greta Guzek)
Price includes delivery in Canada (Hardcover, Children's Book)
> "Recommended... 3 stars out of 4." -Stephanie Yamniuk, CM Magazine.
Since its publication in 1993, thousands of children have enjoyed the whimsical text and illustrations of The Ferryboat Ride and its companion volume, The Ferryboat Ride Colouring Book. These bestselling titles have garnered praise from teachers, parents and young people, with more than 12,000 copies sold to date.
Now, Greta Guzek takes her colourful paintings to the air, this time accompanied with text by award-winning author Howard White.
In The Airplane Ride, a young boy gets on a plane for the first time to go visit his grandparents, and we experience the newness of his journey along with him. From the sculptures of Vancouver airport to the expanse of the Rockies, the Prairies and the Great Lakes, The Airplane Ride captures the grandeur of the Canadian landscape.
With its delightful combination of winning illustration and simple, playful text, The Airplane Ride is a sure-fire children's classic.
---
Share this Product