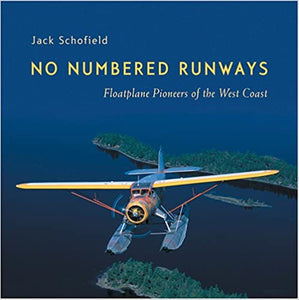 No Numbered Runways (by Jack Schofield)
Price includes shipping in Canada
Their aircraft brought miners, loggers and fishermen, along with prospectors, preachers, prostitutes, misfits and visionaries to the myriad of inlets and waterways of Canada's unforgiving West Coast. These were the float plane pilot entrepreneurs who created a succession of coastal airlines dating from the 1920s to the present day.
While many of these early seaplane operators survived the onerous flights, many would also learn that cockpit skills did not guarantee business success; the aircraft of one man's venture was often seen repainted in the colour of another man's dream.
Jack Schofield's No Numbered Runways recounts the exciting stories of early- and latter-day pilots whose float planes tracked the British Columbia coast. Often without benefit of charts, weather reports, radios or navigational aids and, indeed, without numbered runways, these ingenious aviators shaped the history of commercial flying on Canada's West Coast.
---
Share this Product